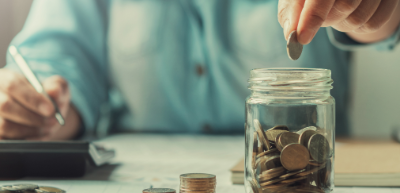 Are your eyes bigger than your stomach? If you are like many, sometimes you fill your plate with more than you can eat and waste incurs. Buffets are the worst, with so many choices! Appetizers, many different entrees and then the dessert! If only we had more control, we might not stumble out of the restaurant feeling miserable due to our lack of discipline. Just like our too full stomachs, personal finances can suffer due to our eyes being too big. We buy things we can't afford. Access to consumer credit has become easy.  Some credit cards only require a mailing address and income verification for approval. Finance companies reside in many retail strip centers and stand ready to hand out high interest loans. The phone company will tack on an extra charge to your bill to pay for the $1,000 cell phone, and the list continues. Our desire for "things" can result in bad judgment which in turn can create financial hardship.  Discipline is a word that many times seems to be viewed negatively. However, a disciplined life is most often times the happiest and stress free. A little "self-discipline" applied and one walks away from the buffet feeling good versus miserable. Being disciplined with our financial well-being is important. A disciplined approach to personal finances can help create financial freedom, prepare for emergencies and create an opportunity for retirement.  If you find yourself in bad financial health, here are some potential keys to create healthy financial well-being:
Find a financial advisor you can trust and who will hold you accountable. Examples could be:

Family Member

Banker

Financial advisor

Determine your current financial health. This can be accomplished by completing a personal financial statement which you can get from your bank or from the internet.

How much is your debt?

What are your assets (house, car, land, retirement, etc.)?

How much is your income?

What are your monthly debt payments?

How much cash is left over after you make your payments?

Sit down with your financial advisor and determine financial goals.

Start small

Be realistic (a goal that is unattainable from the beginning leads to disappointment and discouragement)

Determine strategy to accomplish goals

Create a budget (examples can be found on the internet, you can create on your own using Excel or simply a notebook). Include:

Monthly cash flow

Monthly debt service

Living expenses

Retirement

Extras

Set accountability meetings with your financial advisor (monthly, quarterly, etc.)

Annually review goals and repeat the process of completing a personal financial statement, setting goals and creating a budget

CELEBRATE as your financial health improves
Financial discipline, at first, can be difficult.  The desire for things and the ease of access can lead to very unhealthy personal finances.  Developing a plan, holding yourself accountable and celebrating as you accomplish your financial goals can lead to good financial health.